The Quaker Valley Fire Safety Committee is a group made up of representatives from each of the 5 fire departments in the Quaker Valley School District. Our mission is to teach and promote fire safety throughout the community. We go into the schools every October to teach fire safety.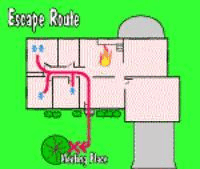 Exit Drills In The Home

Plan your escape route!
Plan at least 2 ways out of every room.
Crawl low in smoke!
Feel doors before you open them.
Have a central meeting place!
Take a head count.
Practice makes perfect!
Hold regular drills.
STAY OUT!!! DON'T GO BACK IN!!! NOT FOR ANY REASON!



By now, we hope that everyone has smoke detectors in their homes. If not, please get some.
Please test the smoke detector(s) AT LEAST once a month.
Please change the batteries twice a year.
Remember, when you change the clocks, change the batteries!